Nattie

Click on photos to see larger image.
Nattie's story is similar to Lady's, but took place seven years later. Again, a starving mother dog, apparently nursing pups, showed up, but this time it was out in the country on Homer's land. Unfortunately, Lady chased her away the first night, but hunger brought Nattie back the next morning. Homer and I were shocked to see the condition of this dog, especially since it appeared she had pups somewhere. She was so starved that she ate three cans of dog food immediately, then settled down for an afternoon nap. That night there was a terrible thunderstorm, the kind that usually terrifies Lady. As Homer comforted Lady in the house, Nattie and I sat under a shed on blankets watching the lightening and heavy rain. It was a nice time to get acquainted. The next morning we prepared to drive back to town, and knew we had to take Nattie with us for care. But where were her pups? We began to search the woods along the property. Hours later, we still had not found them. Sadly, Nattie didn't make any effort to look for her pups and we assumed they had died. Her condition showed that she had possibly been badly abused so the fate of her puppies didn't seem very hopeful. So... home she came with us! It took her a few days to get used to the noises of the city, but she soon calmed down and after a few dominance disputes, she and Lady became fast friends. Lady was still top dog, but as she got older and deafer, Nattie began to take over more and more as our "protector." Unfortunately, there were a few fights, but Lady very gently relinquished her role as Alpha Female and turned the responsibilities over to Nattie, who takes her role very seriously. Nattie is extremely perceptive, smart and funny.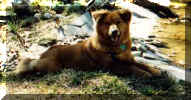 As you can see from her photo, she's a pretty happy dog and a true member of our family. She's so smart that we find ourselves spelling words in front of her (I swear, this is true - pretty pathetic, isn't it?). Nattie's favorite things: chasing her tail, barking at "intruders", eating popcorn, taking walks with "Dad," playing "pull the sock or Mom's underwear" with Dottie," tracking unknown and new animals in her new mountain home and protecting Mom. She also seems to love quiet times outside listening to the birds.
Nattie and Dottie have become best friends after two years of getting adjusted to each other. They love to play together and Nattie seems to be happy to have someone she can romp with since Lady is now gone.

When we moved to the mountains of North Carolina, Nattie became very depressed and no wonder. First we were packing our house in Columbia getting ready to move and poor Nattie didn't know what was going. Then she lost her best friend, Lady. Then we board her for a week in a strange place and bring her "home" to an even stranger place. It took Nattie at least two months to finally realize she was home, but it took alot of attention, love and reassurance on our part. Advice for anyone moving - don't forget the impact on your pets. They can be especially disturbed unless you put aside special time to reassure them.
Nattie LOVES living in the mountains now and likes going hiking with Homer and Nattie.

Nattie is our protector and friend. Actually, I consider her my equal more than a "pet." She has really matured and become the most trusted member of our dog-family. We love her dearly. She has a vulnerability that touches my heart. She is very serious about taking care of me, especially when I'm sick. She stays in my bedroom with me sitting across the threshold of the room as protection. I love her sweetness.
On August 27, 2007 we lost our sweet girl. She had been ill for months, steadily getting worse. At almost 13 years old, we felt it was best to let her go, even though it broke our hearts. We miss her every moment of every day. Run, girl!