LADY
1988-2004
Lady showed up at my house in eighteen years ago, starved, obviously nursing pups somewhere and in terrible shape physically. The first morning I saw her, she seemed so starved that I frantically searched the kitchen for something to feed her. The only thing I could find was grits! I cooked a pot of grits, added butter and cheese, cooled it and poured it in a bowl for her. After one sniff, she devoured the food and wanted more. I was a bit scared of her because she looked so ferocious - even as thin as she was - she reminded me of a hyena! I later discovered that she was part wolf so her wild look wasn't all in my imagination! Over the next few days, we became closer. It seemed that every time I looked out the window or walked outside, this persistent creature was there. However, I still didn't think of adopting her. My father was very ill and I was very busy and upset - too much so to bother with a new dog.

I lost my father on a horribly hot July morning and spent the following week at my mother's house with my family trying to cope with this terrible loss. I didn't even think about the dog during that time. At the end of the week, I finally returned to my home where I lived alone, not looking forward to the weeks ahead. As I walked down the steps to the house, I saw movement and was startled until I saw what it was. Waiting for me at the back door was the starving dog I had befriended. She was much thinner, but seemed happy to see me, as she grinned and wagged her tail. I couldn't believe she was waiting for me! I threw my arms around her and invited her into the house for a huge breakfast. Later, I followed her down to a junk yard where her pups had been, but was assured by the people there that the pups had all been adopted. The men at the junk yard had known her previous owner, who had been arrested and sent to jail, and knew her name was "Lady."
Now, for those of you who don't believe in the great power of the Universe and how miracles happen, then skip this paragraph. There is absolutely no doubt in my mind that Lady was sent to me by the Divine. Think about it. She shows up when my father is dying, when I'm living alone on three acres of woods in a declining neighborhood and when I needed a friend more than I ever have before. She and I reached had an understanding that still amazes me. If it hadn't been for Lady, the first year following my father's death would have been unbearable. She made every day special, comforted me, protected me and loved me. She and I have shared many lives before, I'm sure, and I know we'll share many more.
I took her to the vet the same day that I returned home, made sure she had all her shots and checked for heartworms. Unfortunately, she did have them and the vet told me if I had waited three more months, she wouldn't have made it. So, we began the ordeal of treating her for these horrible parasites. To add to the problems, Lady went into heat. I couldn't have her spayed during the heartworm treatment and kept her inside. Then came even more drama over the next few months.
I haven't mentioned Lady's sometime companion, Butch. Butch was Lady's father and as it turned out, mate. I liked Butch but was bit afraid of him since he was also part wolf. He was a good dog, though, and I welcomed him as well. However, when I took Butch to be checked at the vet's office, he also had heartworms, but it was too far advanced to save him. He was already very short of breath and weak. However, as a last try at life, he impregnated Lady when I left her unattended one time! After this, I sat down with Lady and Butch and explained that Butch was going to be put to sleep. Whether or not they understood, I'll never know, but it made the sad job of taking Butch to be euthanized easier. He was a good boy and I still feel angry at the previous owner who allowed both these wonderful creatures to get heartworms and run loose in the neighborhood.
On Thanksgiving Day Lady climbed the fence and went back down to the old junkyard in the neighborhood and gave birth to six pups. I didn't know this until the next day when I went hunting for her down at the junkyard accompanied by a wonderful animal control officer. She met me at the gate of the junkyard, grinning from ear to ear and proudly led me straight to her pups. I had brought blankets and boxes and put the cutest, fattest little pups you ever saw in the back seat with their proud mama. All the pups checked out fine at the vet's office and we returned home to their LUXURY accommodations in the garage complete with heat, tons of blankets, even music on the radio!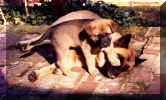 I loved Lady's babies and she allowed me to sit with them in the garage while she took at break. I was very flattered that she let me be an "aunt." After the pups were weaned and checked out by the vet, I found good homes for all six. It was hard to say goodbye, but after having to bring them into my house because of cold weather, and having them EAT EVERYTHING IN THE HOUSE INCLUDING BOOKS, SHOES, AND THE FLOOR (sorry, I got hysterical), it wasn't THAT hard.
Now, came an interesting experience. Lady was healthy now, spayed, free of heartworms and the pups were gone. She was ready to be back on the street. One night she came up and nuzzled me, then started walking down the driveway. I suddenly realized she was leaving!! Not caring if any neighbors thought I was insane (they probably already thought I was anyway), I knelt down on the ground and said, "Lady, please don't leave me. I need you. Don't go. I promise I will take good care of you forever, if you'll stay." She actually stopped, turned and looked at me, then looked back down the driveway. She paused for a minute, and then came back to me where I hugged her and started to cry. She never tried to leave again.
I think we belonged to each other and are more equals than "owner" and "pet." Over the years, Lady has been my loyal friend in more ways than I can tell here. We've shared so many experiences, joys and sorrows that the bond is deep and will last forever. Her intelligence and loyalty (as well as a funny sense of humor) make her a very special friend. She has been been my guardian, friend, sister and protector. Everyone who met her knew that she had a very special spirit.
When Homer came into our life, Lady and I both found a new "best friend." She and Homer have run through the woods in the dark of night chasing a deer (just for fun - no hunters here!), stood on river-banks watching fish, run down country roads and formed a bond and trust that is incredible.

Lady's favorite things: cool weather, a full moon, chompies, riding in Homer's truck, barking at everything including a leaf falling in the forest, clouds passing over and the formation of new planets 14,000,200,000 miles away.
March 2004
This was the month for saying goodbye. Our sweet girl went on her way on March 11. After watching our noble and courageous friend stumble, fall and grow thinner with illness, we knew it was time to let her go. It was one of the most difficult things we've ever had to do, but we knew that she didn't want to stay in her failing body any longer. The periods of confusion that she suffered, the look in her beautiful eyes - all told me that she was waiting for me to be the one to finally let go.
We made the decision on March 8 and I cried much of the time. However, our wonderful veterinarian, Douglas Smith of Cedarwood Pet Hospital here in Columbia and his compassionate assistant, Sabine, offered to come to our home to put Lady to sleep. This made the decision so much easier to bear.
On March 10, our best friend, Lil, came by to say goodbye to Lady. Lil had shared all of the 15 years that we had Lady with us and it was a special moment watching the two of them say goodbye. Lil then took us out to dinner and got us laughing to get through the night.
The next morning, my sister, Jean, came over to say her goodbyes. Jean and I are more than sisters - we are best friends and more. She and Lady had shared many years of happiness, sadness and comfort. She was so sweet to come over because I know how hard it was for her.
Homer took Lady for a long walk and she stayed outside much of the morning enjoying the pretty spring day. Next came our friend, Didi, with a bouquet of flowers for Lady. She sat on the floor and talked and sang to our dog-friend, as Lady watched her intently.
Lady lay down on her bed about the same time that Doug and Sabine came to the door. I knelt down and kissed her forehead, and said, "You go on ahead and scout the way for us, my friend." Doug gave Lady a tranquilizer and I went to sit on the porch. Homer told me that he sat next to Lady and rubbed her ears which she loved. Doug then completed his difficult task. Lady gave one last breath and was gone.
All of us sat on the porch and talked, enjoying the day and feeling a great relief that Lady was now on her way to a different level of existence where she was free of her body. I think about how wonderful it must have felt for her to be completely free - free in a way we can't possibly know until we too leave our bodies behind.
The entire week afterward, I felt Lady's presence close by and we still tell her goodnight every night.
Lady was my best friend, my guardian, my protector and my sister. She stayed with me through hard times and joyful times. I miss her every day. We are preparing to move to the mountains of North Carolina and have visualized a special garden for Lady. We will scatter her ashes in the garden and keep her with us always.
Goodbye, girl - at least for now.

Postscript: November, 2018. We have been in the mountains now for over 14 years. I still miss Lady, but know she's watching over us. We haven't created her garden yet, but we placed her ashes and photo on a bookshelf in our living room. She will always be with us.
LADY
Her eyes tell the story
of our many lives together.
I try to hear her voice
through the chaos of summer.
There is only the wind.
I seek her on winter nights
when the moon shines full
in a frozen world.
In silence.
She is there waiting.