New Skin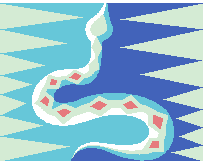 Even though I feel the wind
too sharply sometimes
itchy, hot, and raw
and even though I rub my soul
against the ground for a
good hard scratch
this new skin feels just right
with lots of room to grow into
and a sparkly new look.

Iím not looking back at that old skin
lying there all dry and dusty and used up.
It served its purpose and the hard shell
held me together but it was
squeezing me to death!
Now Iím stretching hard like a well-fed cat
sleek and shiny in my new grown self
Iím bigger and stronger and when I face it,
the wind feels like freedom.