FAMILY LIFE
Following the war, Daddy returned to Columbia, joining the S.C. Army National Guard in 1947. However, the most memorable event of that year was when he met Betty Jean Connor and fell head over heels in love. On June 5, 1948, he married this beautiful young woman.

Mom and Dad made their home in Columbia, living in a small apartment near the University of South Carolina. I was born in 1952. Ever the fisherman, Daddy said that holding me was just like "holding a five-pound bass!"


In 1955, we were all overjoyed when my little sister, Jean, was born.
Mom and Dad adored us both and made us feel cherished our entire childhood. We are so very lucky to have had them as our parents.

Daddy was always there for us. He took his two little girls fishing with him, teaching us how to bait the hook with those yucky worms and crickets. Once, when I was very small, I fell out of the fishing boat into the dark pond water. All I remember was a brief shock of cold water and a strong arm lifting me out of the pond. He immediately took me home where Mom changed my clothes. He then took me straight back to the pond. He didn't want me to fear the water and gave me confidence in myself even at such an early age.

On another fishing trip, my sister, Jean, sat down on an old, wooden step leading down to a dock. She happened to look down at her feet where a poisonous water moccasin was coiled. Jean yelled, "Daddy, a snake!" From my perch on another dock, I remember looking up at my father who moved about 15 feet in two, long strides, leaned over the step, lifted my sister and placed her safely on the bank all in what seemed to be one fluid motion. We never even had time to become afraid before Daddy shot the snake and saved us! Needless to say, even now, he'll always be our hero.
Without a doubt, my father had the funniest sense of humor in the world. All through our childhood we cracked up at his crazy jokes. Every school day of our lives, we were awakened by one of two things: Daddy standing in the doorway whistling for us to get up; or the theme from 2001: A Space Odyssey playing full blast!!
One evening at dinner, we all sat at the kitchen table which faced two large windows. Daddy excused himself to go to the bathroom (we thought!) About five minutes later a tall man in a trench coat with a stocking pulled over his head appeared at the window. Mama screamed and Jean and I laughed, knowing it was Daddy!! No wonder poor Mama's nerves were shot!
When Daddy was courting Mama, he brought her a GIANT bottle of what he called "Chanel Number 5000." This was in a bottle so big that only he could lift it. He wrote crazy love letters to Mama and signed them "Jungle Jim James."
He taught us how to play cards, especially poker, at a young age. We would stare at him as he held his cards, trying to read what kind of hand he had. He had the most incredible poker face in the world. Jean has inherited Daddy's wonderful way of dealing cards, playing poker and keeping a straight face.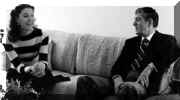 Mom and Dad took us on wonderful vacations, treated us to special plays and movies, even taking us to see the showing of 2001: A Space Odyssey in Atlanta long before it opened in Columbia, SC. Our family sat up most of the night in the hotel room debating and discussing this spectacular movie.

Daddy loved fishing of any kind. It didn't matter if he fished on the bank of a small cow pasture pond or in the surf. Fishing was something that he did to relax and to unwind from his stressful job. We always enjoyed watching him cast his line and slowly pull it back in with unlimited patience. He taught us how to clean fish (what's the point of fishing if you don't eat what you catch?) and Mama taught us how to cook them.
He also adored computers and I'm positive would have had a web site if he had lived. He loved to write short stories and funny descriptions of his friends which he shared with them.
Friendship was also very important to Daddy. Following his retirement, he thoroughly enjoyed the times spent with the "retired Army group" and looked forward to all the football games they attended together.
Daddy always loved animals, especially dogs. His first dog as a boy had been a German Shepherd named "Karo." When we were teenagers, Daddy got another "Karo," another beautiful German Shepherd. After Karo had a good, long life, Daddy and I picked out a beautiful, black German Shepherd named Max. Max outlived Daddy and continued to be the guardian of the household for several years.

As much as Daddy loved us, his first love was his wife. Mom and Daddy had a very romantic marriage and one that Jean and I admired. I remember them dancing in the living room to romantic songs playing on the record player and the sight of them holding hands while walking together. When Daddy became ill, Mom nursed him through very hard times. They were as close as two people can be.
There is too much to tell of his full life for this page. He filled our lives with wonder, comedy, and a great respect for others.
Daddy gave me my love of reading, science fiction, movies, and a sense of the ridiculous. He was an English major at The Citadel and taught me to love words. He taught us self-discipline. He taught us to be true to ourselves and to try to treat everyone with respect no matter who they were or what their background was. He and Mama gave us a sense of self and a deep foundation of love that has carried my sister and me through our adult lives. James C. Dozier was the most loving father a daughter could ever ask for.

We lost Daddy on July 13, 1990 to heart and kidney disease. He held on as long as possible, but his body just gave out. We were all devastated by his death. On the afternoon of Daddy's death, Mama remembered that he had told her if anything happened to him, to look in an envelope he had left in his dresser. She went there and pulled out a beautiful poem he had found telling us goodbye. In the poem, he said he would always be with us. He is.